With the digital revolution over the last decade or so, more and more companies have found that traditional infrastructure simply can't sustainably evolve to meet their digital needs. Its many restrictions and increasing business pressures such as the need for lower costs, flexibility, speed to market, and scalability — have led to a massive shift to the cloud. In fact, IDC forecasts that worldwide spending on cloud would be $277 billion in 2021.
Cloud services have really levelled the playing field between small and large companies, as anyone can now create a strong backbone for their business without having the billions to sink into on-premise IT infrastructure. This is why internet companies like Uber and Airbnb have been able to compete on the same level as large enterprises, investing more of their available funds into product development and marketing instead of expensive hardware.
But!
Not all enterprises are born in the digital age. Enterprises with decades of grand legacy and global footprint didn't start on the cloud. This typically is the first stage for most enterprises of the pre-digital era. In this blog post, we discuss the journey of businesses who are not  'cloud-first' to reach true business transformation on the cloud.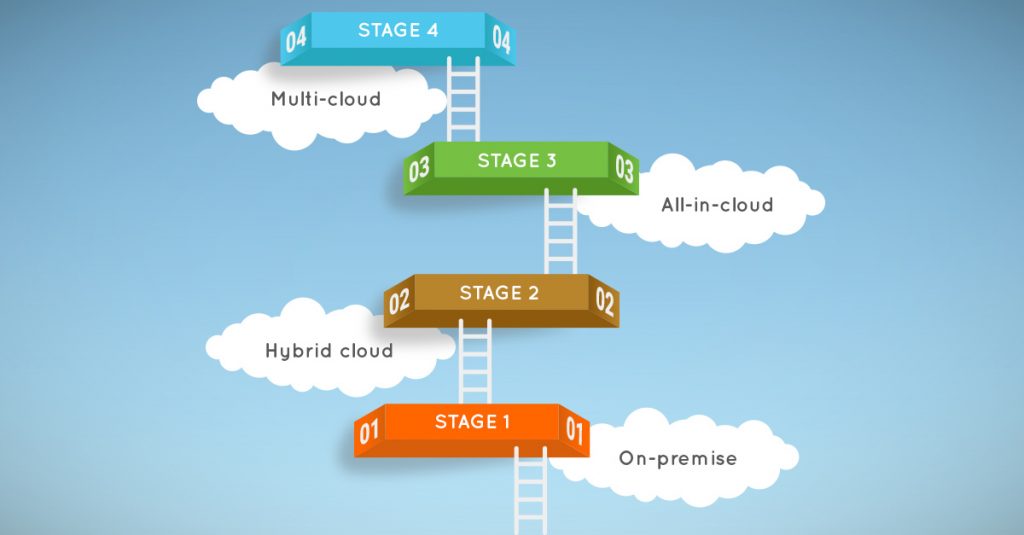 Stage 1: On-premise
This is where it all starts. Companies decide that they want more than what their on-premise infrastructure can offer them, and start looking towards the cloud. These companies are in research mode, finding out as much as they can before making the move, figuring out the best cloud strategy for them. Many clients who come to us in their quest for cloud advisory services are in this stage.
Stage 2: Hybrid cloud
This is the stage in which we first meet the vast majority (in fact, around 80%) of our clients. Moving infrastructure entirely from on-premise to cloud can be a massive undertaking, especially for larger companies who have already invested a lot into their on-premise infrastructure. So, the shift occurs in stages, usually with some applications and workloads — say email or file-sharing ' moving to the cloud first. This lets companies figure out what's working and what isn't before they shift more of their workload. We wrote a bit about this in an earlier blog post here.