Making cloud architecture AWSome, for free
1CloudHub partners with AWS to future-proof the tech journey of your company at no cost—No strings attached. 
The cloud is the future. Over 75% of the world's enterprise organizations, and nearly 55% of medium-size businesses have already migrated to the cloud, and the number is only growing.  
There's, of course, a reason behind this—apart from better data security and sustainability, in terms of pure numbers, a well-architected cloud infrastructure can help companies save more than 40% of their labour and maintenance costs almost effortlessly.  
But here's the point you should note: We said "well-architected cloud infrastructure".  
A hastily put together cloud framework will not help you optimize costs, time, reliability, or security. The good part is that it can be fixed and strengthened—and we know the best way to do so.  
The AWS Well-Architected Review
Who better to rely on for cloud best practices than AWS, the world's largest cloud service provider, trusted by corporates, defence and scientific exploration organizations, and other government departments? 
AWS has set industry best practices for the best possible cloud infrastructure to maximize benefits for you. And it helps organizations across the world achieve this ideal architecture through partners like 1CloudHub.  
1CloudHub is one of the very few certified, official AWS migration experts, and in close coordination with AWS, the experts at 1CloudHub review, recommend and reinforce the cloud architecture for hundreds of companies from various industry verticals, for free, using the 6 pillars of success: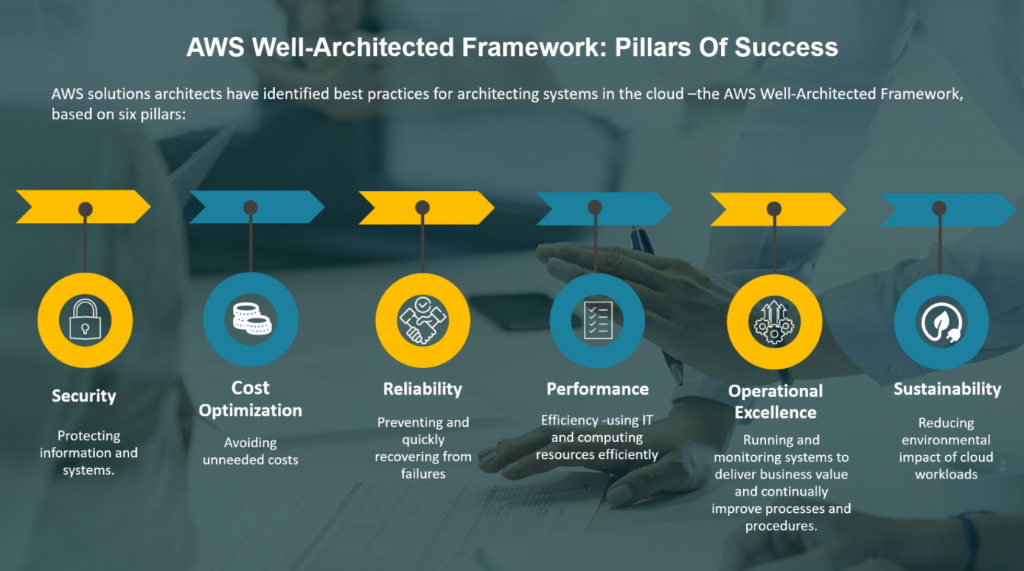 How does 1CloudHub conduct the AWS Well-Architected Review?
It is our commitment to go above and beyond the status quo in order to provide outstanding solutions to our clients based on shared goals. We bring our expertise together for the AWS Well-Architected Review in the following manner:
 
First, the Solution Architects at 1CloudHub validate the current state of the Cloud workload

 
Then we determine whether all the best practises as defined by AWS are in place

 

Next, we validate that the workload's cost is optimal

 

Simultaneously, we will identify recommendations and potential improvements to your AWS workload, as well as prepare architects to leverage new AWS services and technologies as they become available

 
A grand total of $0. AWS, as well as its affiliated partners like 1CloudHub, believe that having well-architected systems greatly increases the likelihood of business success, and that shouldn't have any strings attached.  
So 1CloudHub will conduct your AWS Well-Architected Review at no cost whatsoever.  
Transform your cloud infrastructure into something AWSome
What can you expect after you book your free Well-Architected Review with 1CloudHub?
Once you reach out to us about your WAR requirement, our senior Solution Architects will get started with this three-step process which will help us understand your requirement and make necessary recommendations: 
Step 1: Prepare for review of existing architecture 
Review meetings can be online or in-person, as per feasibility, and will take around 2-3 hours. Solutions architects from 1CloudHub will discuss and analyse your AWS architecture to understand your system. 
Step 2: Receive Your Review Report & Recommendations 
Our Solution Architects will perform a deep-dive on the critical workload and prepare a detailed report for you. Our report will cover the best practices in the 6 pillars of the Well-Architected Framework. The report will point to any high-risk issues for your AWS Environment. 
Step 3: Following the review 
One or two days after the review, we will discuss the priority of your needs for remediation tasks. Our architects can implement Well-Architected Framework best practices to help you build and maintain secure, reliable, performant, cost-optimized, and operationally excellent applications, and help you architect new innovative products and services in the AWS cloud. 
So, now the only question that remains is, when are you getting started with your AWS Well-Architected Review?