Choosing the right workload to start your cloud journey
"Ah, I don't have cloud experts on my payroll", "but what about security", "but, I don't own the infra" — if these are concerns inhibiting you from adopting the cloud, you might find hybrid cloud interesting!
Cloud computing knocked on IT doors around 10 years ago and since then a multitude of organizations have moved some or all of their applications and data to public clouds such as Amazon Web Services (AWS), Microsoft Azure and Google Cloud Platform (GCP). It is a revolutionary model, no doubt. But enterprises are often hesitant to explore the possibilities of cloud because of the lack of understanding when it comes to the cost involved, inadequate expertise in running and managing the cloud infrastructure and, concerns of security.
But if you were to take a step back and look, you are already on cloud — emails, file-sharing etc. have been on the cloud for a few years now. And we can all agree that this switch to cloud has been seamless and well, easy.
So, why not take the next step? Why not move your business applications to the cloud and reap the same benefits — of anytime anywhere availability, scalability and multi-user collaboration — for your other business applications?
Gartner predicts that by 2020, "90 percent of organizations will adopt hybrid infrastructure management". You would be surprised to learn that even the most advanced tech organizations are on hybrid cloud.
Hybrid cloud is essentially a solution where on-prem, private and public clouds function hand-in-hand giving you more computing power for much less investment, better controls to adhere to existing InfoSec policies and the ability to handle fluctuating workload without the corresponding fluctuating capital expenditure.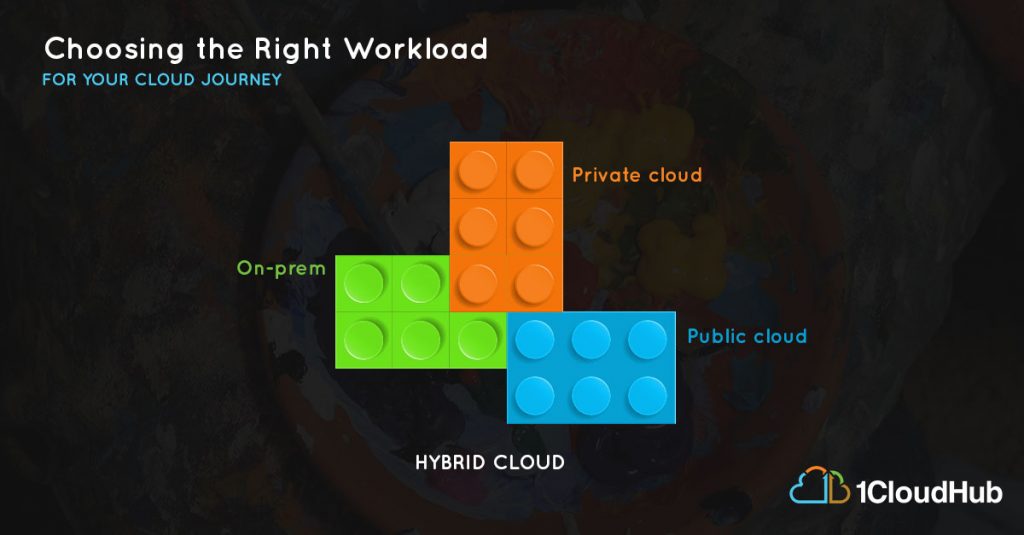 If you're unsure of taking the foundational technology of your organization — say, the ERP that processes your customer orders — to cloud, it's perfectly understandable. So, here are our recommendations for what are the best applications you can migrate to cloud, to test the waters, so to speak!
Move non-critical applications to cloud
This would be a low-risk experimentation for your tech infrastructure. If, god forbid, you fail, you wouldn't have brought your business to a halt.
This is what Singapore did. They built their private cloud infrastructure using Red Hat OpenStack. However, they also needed a solution that would enable researchers to access compute resources without placing sensitive data directly into public cloud. To accomplish this, NTU created a hybrid cloud with three components: "a private cloud within NTU, a public cloud powered by AWS and a third private storage set-up at Equinix, powered by NetApp."
Support peak traffic through cloud bursting
In case of seasonal spikes in traffic, employ dynamic deployment of applications onto public cloud when on-prem or private cloud resources render insufficient. This eliminates the needs to further invest in physical infrastructure to meet fluctuating needs.
For an e-commerce portal, this would come in handy during times of a sale or a season — say Thanksgiving or Christmas. A large people-driven enterprise might need higher capacity during the appraisal season at the end of the financial year. A private cloud hosted on, say, Eucalyptus, can send API commands to a public cloud like AWS or Azure for extra burst resources.
Run business analytics on vast amounts of data, instantly on the cloud
If you have 100s of TBs of transactions/clickstream data, the knowledge it will open doors to is immense. You can finally move from gut-based decision-making to data-driven decision-making. However, processing that amount of data needs much higher computing powers.
A media organization we work with had 38TB of user interaction data — the various activities the user performed on their streaming website. Running advanced analytics on their on-prem servers would have been a computation nightmare, and prohibitively expensive, rendering them frustrated about not being able to leverage the data they know they have!
With AWS, they were able to run their analytics engine on the cloud, computed billions of data points and derived meaningful insights from them, in less than 30 minutes flat!
Use cloud as your fallback option
Establishments spend millions on backup systems that remain unused for the most part. With hybrid cloud you can pay for disaster recovery only when they need it. This is what we enabled for a leading media company in India that owns and operates 31 popular channels across film, entertainment, sports.
The client operated around 30 servers in its Mumbai offices, each handling about 5TB of data.
The files and folders on these servers were being backed up using a Symantec Tape Backup solution with backups taken daily, weekly, and monthly, and retained for 30 days, 365 days and 7 years respectively.
They wanted a backup solution that was an easy-to-manage alternative to tapes for 10TB (and growing) of data.
We recommended that the client sunset the existing solution and switch to cloud backup on Azure. This would be not only more scalable and easier to manage but also bring cost advantages and offer security and disaster recovery options in case of DC or city-level failures. The rest of the story is here.
Pre-production on cloud, on-prem for production
Developers need an agile, flexible, dynamic environment for developing and testing software — best on cloud. However, often clients are uncomfortable using public cloud for their production environments, for concerns of security. And therefore, software development companies find themselves restricted by an on-prem system.
But this needn't be.
Software service providers can host their development and staging environments on cloud, as they hardly ever contain any sensitive data. With applications like AWS Code Deploy, one can even easily push code to production servers on-prem.
Moving your enterprise IT systems on the cloud doesn't mean moving them out of your control. Hybrid cloud is a great strategy for organizations aiming at achieving a more agile and advanced infrastructure while still keeping their legacy applications afloat.
Hybrid cloud enables organizations without 'cloud experts on payroll', concerned about 'security' and 'ownership' of infra, find the right balance between the possibilities that cloud can offer and the constraints they currently work under. At 1CloudHub, we understand that each organization is on its own path of technology adoption and all-in-cloud isn't the right choice for everyone. Which is why our hybrid cloud practice is among the busiest.
Our hybrid cloud consultants work closely with enterprises all over Asia to understand their needs and enable them on cloud suitably.
If you have questions about how to start your cloud journey, the cost involved and/or any security concerns, speak to our hybrid cloud consultant today. Let us help you figure out the best way forward.
Sharing is caring!